Each conference space within Virtual Chair has a presentation area called a Plenary Room which is found at the top of the screen.  Navigate your avatar to the plenary room door to enter the room. To join the Zoom presentation, have your avatar take a seat on a vacant stool and press "X" on your keyboard. At this point you will be presented with a Zoom link on the screen. Clicking the link will automatically launch Zoom on your computer to watch the presentation. Steps below:
Enter the Plenary Room at the top of the screen through either of the doorways.

 
After entering the Plenary Room, have your avatar sit on a vacant stool.


 

At this point, press the "X" key on your keyboard to join the Zoom session; click the link to launch Zoom.



 

Once the Zoom presentation has finished, click the Leave Meeting button to bring you back to the Virtual Chair session in your browser. Exit the Zoom browser tab if necessary and on the Virtual Chair browser page, click the green Re-enter button to bring you back to the plenary room.

The following video shows what the attendee will experience joining Zoom from Virtual Chair, and re-entering the Virtual Chair venue once exiting the Zoom session..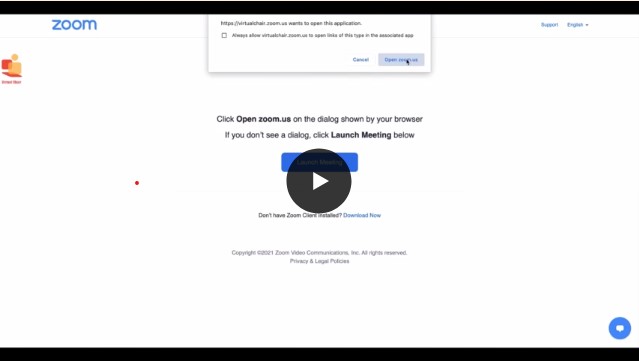 ​
​
Visit the Virtual Chair help page for additional information on how to connect to Zoom sessions.